TubePlayer / Video
Description
TubePlayer is a lightweight stand-alone player for YouTube. With TubePlayer it is easy to create, save and manage YouTube playlists on your desktop. No YouTube account needed!

All playlists are saved as seperate files, so it's easy to copy playlists on a portable device or to share playlists with your friends.

Sort your Let's Plays, create playlists with the latest comedy clips, listen to audiobooks, or make a music list for your next party!

TubePlayer uses the YouTube API for Developers.


Screenshots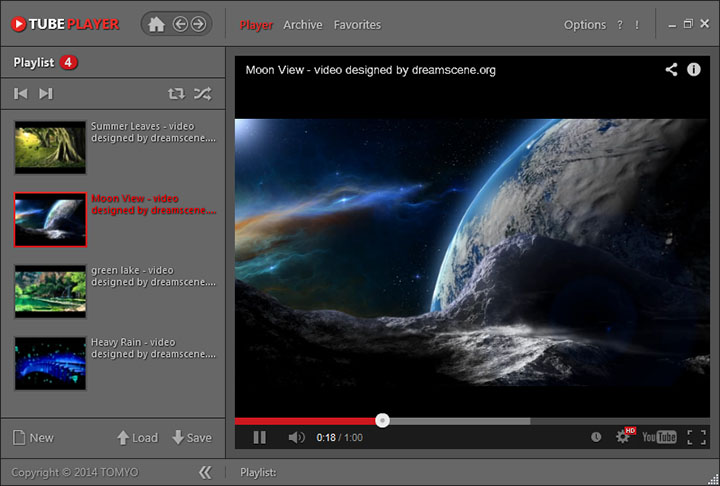 - Play your youtube clips in a free resizable player window!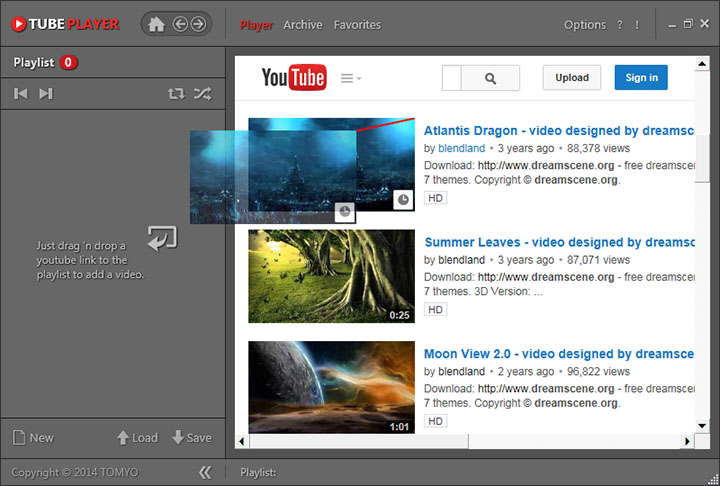 - Drag 'n drop a video link from the browser window to the playlist.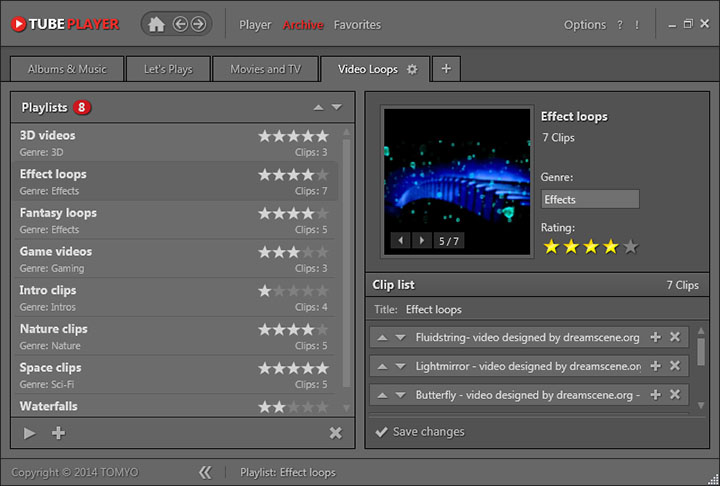 - Manage all your playlists directly in TubePlayer.
Read the complete manual for more details.
Download
Download the current version of TubePlayer (freeware). Available as complete version (with installation), or as zipped version (without installer, e.g. for portable usage). Show version history.
TubePlayer (v1.0.0.3) complete version, with installation TubePlayer (v1.0.0.3) zipped version, without installation
The Setup automatically associates the "TubePlayer playlist" file type (*.tppl) with your installed version of TubePlayer.

You can manually associate the file type by right clicking on a playlist file (*.tppl), click "open with" in the context menu, and select TubePlayer.exe as default program.
Languages
Turkish translation for TubePlayer (friendly translated by Alp Arıbal).
Download (right-click, save as): Translation_tr-TR.xml.
NEW !!! Spanish translation for TubePlayer (friendly translated by G. González).
Download (right-click, save as): Translation_es-ES.xml.
Just copy the translation file (*.xml) to the 'Languages' folder included in the installation directory of TubePlayer.
System Requirements
The Microsoft .NET 4 Framework (or any higher version) must be installed to use TubePlayer. Not needed for Windows 8 and newer, the NET Framework is already included.

System OS: Windows XP, Vista, 7 / 8 / 8.1 or 10

CPU: min. 1.6 GHz CPU (32- and 64-Bit supported)

RAM: min. 1GB Ram (2GB recommended)


Internet connection needed!

To watch YouTube Clips in TubePlayer, a internet connection is needed. We recommend a flatrate DSL connection with at least 1000 kbit/s download bandwith for video streaming.